2018 News Releases
Subscribe to posts
The City of Sheridan Receives Redesignation to Attainment
CHEYENNE, Wyo. – On April 4, 2018, the United States Environmental Protection Agency (EPA) issued final approval for the State of Wyoming's Limited Maintenance Plan and Request for Redesignation to Attainment for the City of Sheridan moderate Particulate Matter (PM10) nonattainment area. This action officially removes the nonattainment status for the City of Sheridan.  It also means a federally required construction ban on major sources of PM10 in the City of Sheridan, implemented in the early 1990s, will no longer be in effect.
"The City of Sheridan and Wyoming Department of Environmental Quality (DEQ) worked hard for a long time to obtain this redesignation," said Wyoming Governor Matt Mead. "Sheridan's air quality had been achieving national standards for nearly 25 years and based on Sheridan's work, redesignation has been due. I appreciate the efforts of Wyoming DEQ Director, Parfitt and EPA Administrator, Pruitt to get this accomplished."
In the 1980s, elevated levels of particulate matter were recorded on air quality monitors in the City of Sheridan. These measurements exceeded the national standard for particulate matter.  As a result, the EPA classified the City of Sheridan as a nonattainment area on July 20, 1987. 
In the time since that designation, the Wyoming DEQ, the City of Sheridan, and other stakeholders worked together to develop policies that achieved lasting air quality improvements and met Clean Air Act requirements.  Through this process, a winter road maintenance plan was developed to address high levels of fugitive road dust, which were identified as a primary contributor to the pollution.
By 1994, the air quality had improved to the extent that the EPA determined that the area was meeting the national standards for PM10 and, consequentially, approved the State of Wyoming's State Implementation Plan for the City of Sheridan nonattainment area.
"We appreciate the efforts by the City of Sheridan in bringing the air quality back in line with the National Ambient Air Quality Standards for particulate matter," said Todd Parfitt, DEQ Director. "This timely and responsive action by the EPA confirms the State of Wyoming's determination that the area is back in compliance."
"Redesignation was made possible because of the combined efforts from citizens, industry, the City of Sheridan, and the State to put protective air quality measures in place," added Nancy Vehr, DEQ Air Quality Administrator. "Because of these early cooperative efforts, it is great to have a redesignation that recognizes Sheridan may enjoy both cleaner air and economic development opportunities."
The Wyoming DEQ will continue to operate air quality monitors in the Sheridan area, and the Limited Maintenance Plan contains contingency measures in case elevated particulate matter levels reoccur.
-end-
CHEYENNE, Wyo. – Ten teams were named as finalists for the NRG COSIA Carbon XPRIZE this morning during the Bloomberg Future of Energy Summit in New York City. Five teams will continue on in the coal track and five will participate in the natural gas track. The five coal-track teams will be the first tenants of the Wyoming Integrated Test Center (ITC) where they will be able to test their processes and products utilizing captured carbon. The five coal track teams include;
·Breathe (Bangalore, India) – Led by Dr. Sebastian Peter, the team is producing methanol, a common fuel and petrochemical feedstock, using a novel catalyst.
·C4X (Suzhou, China) – Led by Dr. Wayne Song and Dr. Yuehui Li, the team is producing chemicals and bio-composite foamed plastics.
·Carbon Capture Machine (Aberdeen, Scotland) – Led by Dr. Mohammed Imbabi, the team is producing solid carbonates with applications to building materials.
·CarbonCure (Dartmouth, Canada) – Led by Jennifer Wagner, the team is producing stronger, greener concrete.
·Carbon Upcycling UCLA (Los Angeles, CA, USA) – Led by Dr. Gaurav Sant, the team is producing building materials that absorb CO2 during the production process to replace concrete. 
"I congratulate all the teams that participated in the Carbon XPRIZE, and am excited about the caliber of the five finalists," said Wyoming Governor Matt Mead. "These teams have worked hard and will begin realizing their ideas on a full scale production level in Wyoming. I am looking forward to watching them set up and work on game changing uses for carbon at the Integrated Test Center. These teams and their innovations have the potential to revolutionize uses of carbon as a byproduct of coal."
The NRG COSIA Carbon XPRIZE is a $20 million global competition to develop breakthrough technologies that convert the most CO2 into one or more products with the highest net value. A total of 47 teams entered the competition and 27 were selected in October of 2016 to advance to the second demonstration phase of the competition. Ten teams have now been selected to compete in the final round of the competition.  
The five-year contest includes two tracks, with the new technologies tested at either a coal power plant (the Wyoming ITC) or a natural gas facility (Alberta Carbon Conversion Technology Centre in Calgary, Alberta). This third round entails larger scale technology demonstration under real world conditions, with access to test centers adjacent to existing power plants. For being a finalist, each of the ten teams will evenly share a $5 million prize. In each track, the winner will be awarded a $7.5 million grand prize. The winner is expected to be announced sometime in March of 2020.
About the ITC
The ITC is a public-private partnership designed to foster the next generation of energy technology. The ITC will provide space for researchers to test Carbon Capture, Utilization and Sequestration (CCUS) technologies using actual coal-based flue gas from the Dry Fork Station near Gillette.
In 2014, with the support and encouragement of Governor Matt Mead, the Wyoming State Legislature allocated $15 million in funding for the design, construction and operation of an integrated test center to study the capture, sequestration and management of carbon emissions from a Wyoming coal-based power plant. An additional $5 million commitment from private industry was required under the appropriation, which has since been secured from the Tri-State Generation and Transmission Association in addition to $1 million pledged from the National Rural Electric Cooperative Association. Basin Electric Power Cooperative is providing additional in-kind contributions including engineering and construction management services at the Dry Fork Station host site, which is jointly owned by Basin Electric and the Wyoming Municipal Power Agency.
The ITC is slated to be one of a handful of such facilities around the world and only the second one in the United States. While many carbon capture technologies are being developed and studied in laboratory settings, the ITC will be one of the few research and testing facilities at an operating power plant. The ITC will allow for real world testing at an active power plant and alleviates typical concerns over being able to transfer technology from a lab to a plant.
-end-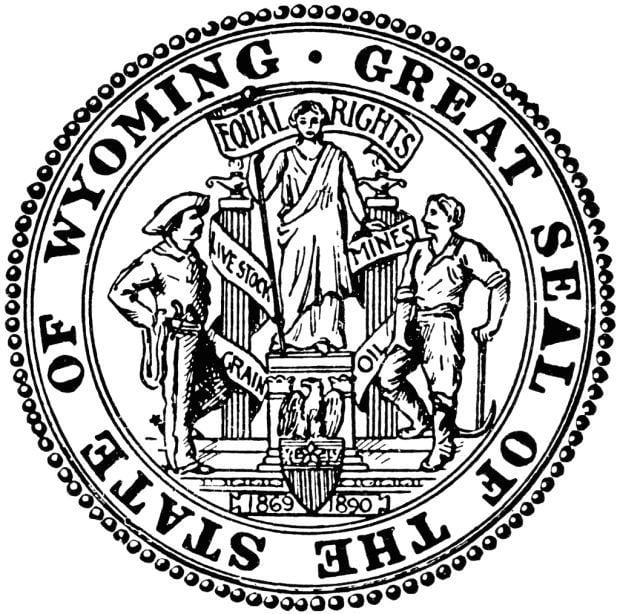 March 22, 2018
CHEYENNE, Wyo. – Today the Wyoming Supreme Court issued its decision in the case of Gordon v. State of Wyoming.  The Supreme Court reversed the District Court, which had rejected the Treasurer's challenge to the Capitol restoration legislation, and remanded the case to the District Court for further proceedings.  
In a 4-1 decision, the Court found the statutes passed by the Legislature to oversee the project did not provide for the Treasurer's "narrow constitutional check on the legislature's ability to spend on its own halls and rooms." The Court further specified that the Treasurer's approval is not required for all work on the project and provided many examples of aspects of the project not subject to his approval. Further proceedings in the District Court will, in the Court's words, "wrestle with" what parts of the project are within the narrow scope of the Treasurer's review. The project is moving toward completion next year and work will continue.
Chief Justice Burke in a dissenting opinion would have upheld the District Court finding that the statutes on their face were constitutional.
"I, as always, appreciate the work of the Wyoming Supreme Court. They have issued a thoughtful opinion in a complex case. They have recognized the honest effort of the Legislature to deal with this Herculean endeavor," said Governor Mead, who is a member of the Capitol Restoration Oversight Group but is not a named party in the case.
The Capitol project is a huge undertaking, begun years ago under then-Treasurer Joe Meyer. The Oversight Group has taken every aspect of the project seriously. Meetings are open to the public and well-attended, records are available, and every action has been deliberate and transparent.
"The Capitol is the most important building in the State, inspiring to look at and to visit - the repository of our state's history past, present and future," added Governor Mead. "Completing the restoration of this historic landmark is essential so the Capitol building can once again be open and available for all to see and enjoy."
Click here to read the Court's decision.
-end-
February 28, 2018
CHEYENNE, Wyo. – Wyoming Governor Matt Mead appointed five members to ENDOW's Rural Council. The Council offers a rural perspective on important considerations to the ENDOW Executive Council as it narrows its focus on solutions for sustaining and diversifying Wyoming's economy over the next twenty-years. ENDOW stands for Economically Needed Diversity Options for Wyoming.
The Council is Co-Chaired by ENDOW Executive Council member F.E. "Wally" Wolski and Savery rancher Jim Espy. The Council is composed of representatives from five leading rural advocacy organizations, the Wyoming Stock Growers Association, Wyoming Business Alliance, Wyoming Rural Electric Association, Wyoming Farm Bureau Federation, and the Wyoming Association of Conservation Districts.

"I thank these Wyoming leaders for serving on the ENDOW Rural Council. The voice of rural communities is critical to ENDOW," said Wyoming Governor Matt Mead. "The Council will add to ENDOW's work and will help shape the final recommendations of the Executive Council."

"I look forward to working with these exceptional rural leaders," said Rural Council Co-Chair Wally Wolski. "Wyoming is a rural state and I cannot overstate the importance of the insights, concerns and lessons that small towns and rural people bring to the table. A prosperous future for our small towns and rural places is key to ENDOW's ultimate success."

"Wyoming cannot meaningfully diversify our economy if it leaves rural communities behind," said Rural Council Co-Chair Jim Espy. "The Rural Council is a key component of ENDOW. I applaud Governor Mead for acknowledging the vital role of rural people and rural businesses to our state. I am excited by this opportunity and have every confidence that we will develop recommendations to enhance the Executive Council's work."

The Rural Council is scheduled to meet for its first time on Friday, March 2 from 9:00 a.m. to noon at the Wyoming State Library. Its members are:
● Cindy DeLancey, President of the Wyoming Business Alliance
● Tony Micheli, Representing the Wyoming Farm Bureau Federation
● Scott Smith, Secretary of Garland Light & Power Co.
● Jamie Tarver, Supervisor of the Campbell County Conservation District
● Dennis Sun, President of Wyoming Stock Growers Association

ABOUT ENDOW
ENDOW aims to facilitate broader, lasting economic growth at the state and local level by capitalizing on Wyoming's number one strength: its people. ENDOW is an opportunity for Wyoming to take the reins and realize a future where the state can prosper no matter the economic climate or the status of commodity prices.

The ENDOW Executive Council submitted its first report to Governor Matt Mead and the Wyoming Legislature on August 30. The Wyoming socioeconomic assessment established a baseline for the preliminary recommendations submitted on December 29, 2017. The economic diversification strategy is due August 1, 2018. Additional information on ENDOW can found at www.endowyo.biz.
-end-
March 1, 2018
Governor Mead Selects New Secretary of State
CHEYENNE, Wyo. – Governor Matt Mead has chosen Edward Buchanan to fill the Secretary of State vacancy. Buchanan was one of three candidates the Wyoming Republican Party Central Committee sent to Governor Mead to replace Ed Murray who resigned from office on February 9th.
Wyoming has a statutory process which governs vacancies in elected offices. In the case of the Secretary of State, application is made to the central committee of the political party which the last incumbent represented at the time of election - in this case the Republican Party. The Republican Central Committee selects three names. The Governor, then, interviews the three candidates and chooses among them.
Governor Mead interviewed the three candidates on Tuesday. "I have received input from people across the state. I have weighed that input in my evaluations and I selected Ed Buchanan," said Governor Mead. "I was particularly impressed that Ed ran for this Office in the last election. He understands state government having served in the Legislature where he rose through the ranks to serve as Speaker of the House. He is a respected attorney and prosecutor. In the course of his career, he has had many interactions with the office of Secretary of State. I have admiration for his military career. Ed is committed to Wyoming and to the responsibilities of the Office," Mead said.
The Central Committee also sent Governor Mead the names of Darin Smith an attorney from Cheyenne and Richard George a farmer from Park County.
"I appreciate Darin and Richard. They were each committed to serve and committed to Wyoming," said Governor Mead.
"It is an honor and privilege to be selected for this office by the Central Committee and Governor Mead. I pledge my best efforts to the State of Wyoming and her citizens. I am blessed and honored to serve," said Buchanan.
-end-
January 26, 2018
CHEYENNE, Wyo. – Governor Mead signed two Executive Orders today based on recommendations by the ENDOW Executive Council in their December Preliminary Findings and Recommendations report. The first Executive Order (EO) establishes an educational attainment goal for Wyoming workers (age 25 – 64). The second EO provides contracting opportunities for local technology businesses bidding on state contracts.
University of Wyoming President Laurie Nichols and several of Wyoming's community college presidents were in attendance for the signing of the EOs. The Governor's action on Educational Attainment, supported by the Wyoming Community College Commission and the University of Wyoming Board of Trustees, calls for 67 percent of Wyoming's working age population to hold a post-secondary credential (certificate or degree) by 2025 and 82 percent to hold a post-secondary credential by 2040.
"Education is the foundation for diversifying our economy – we need an educated and trained work force," said Governor Mead. "I'm asking our education leaders to work together and implement a plan to provide post-secondary opportunities our citizens need and the prepared and skilled employees businesses are looking for."
Executive Council Member Mary Ellbogen Garland, President of the John P. Ellbogen Foundation, said, "Wyoming's young people are our greatest resource. The Executive Council wanted to be clear from the outset that a highly-skilled workforce, who can command good salaries and afford to stay and raise their families in Wyoming, is a top priority. With this action the Governor has brought together Wyoming's key higher education stakeholders, including UW and Wyoming's community colleges, and articulated a shared vision that supports our young people, our business community, and our economic vitality now and long into the future."
"The State spends approximately $100 million on technology contracts annually. Less than three percent of those contracts are awarded to Wyoming companies – we need to change that," Governor Mead said in reference to the Technology Contracts EO. "The State should take steps to use more services provided by Wyoming companies, and this EO outlines those measures."
Executive Council member Matt Kaufman, a Cheyenne attorney focused on startups and entrepreneurship, was pleased to see the Governor's commitment to supporting Wyoming's burgeoning technology sector.
"It is absolutely key that we encourage Wyoming technology businesses to compete for state contracts. As the Governor has frequently expressed, Wyoming has the potential to become a hub for information technology, cybersecurity, and the management of big data," Kaufman said. "The Governor's action today sends a strong signal to entrepreneurs and established technology firms that Wyoming is forward looking and eager to work with technology industry leaders who choose to live, work, and create good paying jobs right here in Wyoming."
Governor Mead also signed a letter to Wyoming Department of Transportation (WYDOT) Director Bill Panos asking WYDOT to research a "one dig" policy to facilitate the installation of broadband conduit as part of highway construction and other projects.
"It is wonderful to see Governor Mead quickly act on the Executive Council's recommendations," said Executive Council Member and Silver Star Chief Financial Officer Barbara Sessions. "All of the actions taken today are critical first steps to diversifying our economy and recruiting, returning, and retaining young people."
The EOs are available on the Governor's website: governor.wyo.gov/documents/executive-orders.
-end-
January 23, 2018
CHEYENNE, Wyo. – Governor Matt Mead announced today that firearms manufacturer Weatherby, Inc. will be relocating to Sheridan, Wyoming. Weatherby is a family-owned company that has been based in Paso Robles, California since its founding in 1945. Weatherby will bring its management team and manufacturing operations to Sheridan and create an estimated 70 to 90 jobs and $5 million in payroll in the next five years.
The Sheridan Economic and Education Development Authority (SEEDA) Joint Powers Board worked with the Wyoming Business Council (WBC) to secure a grant through the Business Ready Communities Program to help with the relocation
"This is wonderful for Wyoming and for Weatherby," said Governor Mead. "Weatherby's firearms will now be made in Sheridan and shipped all over the world. I am proud of the work done by the Wyoming Business Council, SEEDA, and all who helped make this happen. This deal has been in the works for over a year – good things are worth the wait."
The recruitment of Weatherby was nicknamed "Project Enterprise" by the WBC and final grant approval was given by the State Loan and Investment Board on January 18, 2018. Under terms of the agreement, SEEDA will construct a building up to 100,000 square feet in the Sheridan High-Tech Business Park and lease the building to Weatherby for 20 years. The company will invest an estimated $2 million in relocation expenses and also capital investment in the building.
Weatherby CEO Adam Weatherby cited Wyoming's business-friendly environment, Sheridan's proximity to outdoor opportunities, the town's vibrant downtown and a skilled workforce provided through Sheridan College. Weatherby joins fellow firearms companies Magpul Industries and HIVIZ Shooting Systems that also relocated to Wyoming.
"The ENDOW initiative positions Wyoming to build on this recruitment," continued Governor Mead. "ENDOW is working to enhance key attributes that brought Weatherby to Wyoming."
January 8, 2018
CHEYENNE, Wyo. – Governor Matt Mead announced the "High School Girls CyberStart Challenge" – a Cybersecurity initiative sponsored by the SANS Institute. SANS is a trusted and significant source for information security training and security certification in the world.
The competition is open to Wyoming high school junior or senior girls who are at least 16 years old. Contestants will learn cybersecurity skills and test their aptitude through a no-cost online game of discovery called CyberStart.
"The Cyberfirst Girls Challenge is an opportunity for students to learn to protect digital assets while honing skills in technology," said Governor Mead. "Cybersecurity and computer technology are career fields that have seen tremendous growth over the last decade. Jobs in technology are in high demand and are high paying. This gives kids the chance to learn more and it fits well with the ENDOW initiative."
State CIO Tony Young shared "Today we compete with every type of business for employees who understand the importance of Cybersecurity. This program is one more way for us to encourage girls who are interested in careers in technology to receive exposure and training relevant for the future."
Participants in the Cyberfirst Girls Challenge will have the opportunity to share in $150 Scholarships, registration and travel to Chicago for the Women in CyberSecurity Conference (WiCyS) held March 23-24 in Chicago, Illinois. WiCyS is a community engagement, encouragement and support for women in cybersecurity. Despite the growing demand and tremendous opportunities in the job market, cybersecurity remains an area where there is a significant shortage of skilled professionals regionally, nationally and internationally.
Each player in CyberStart begins as a "cyber protection agent" responsible for protecting a valuable operational base.  The student chooses and solves challenges, earning points along the way. A cyber protection agent field manual provides answers to questions that may arise and offers help when players get stuck. When the player has solved a sufficient number of challenges at one level, a new level opens up and new problems appear – for a total of 31 levels.
"The nation desperately needs more highly-skilled cyber professionals, and we have new evidence that CyberStart will radically improve the quality and preparation of people entering the cybersecurity field," said SANS Director of Research, Alan Paller. "SANS trains more than 30,000 advanced cybersecurity professionals each year for military and intelligence organizations and large high-tech companies in the U.S. and its allies. We discovered that those who have mastered the topics taught and measured in the CyberStart program do far better than others in the advanced cybersecurity courses that prepare the critically needed people. By opening CyberStart to hundreds of students, we may be able to help the nation identify the next generation of talented people who will excel in this critical field."
For more information and to get started playing CyberStart, please visit, ets.wyo.gov/CyberStart
-end-