2018 News Releases
Subscribe to posts
CHEYENNE, Wyo. – The ENDOW: ENGAGE Summit held last Saturday at the Marian Rochelle Gateway Center in Laramie showcased the dedication, commitment and passion that Wyoming young people have for the state. More than 200 Wyoming people, ages 16 to 35, from across Wyoming came together with Wyoming Governor Matthew Mead, Superintendent of Public Instruction Jillian Balow and members of the ENDOW Executive Council for a day of planning, expression and action.
"It is the leadership of ENGAGE that will make a difference in our shared future," said Governor Mead. "It's about time that we listen and incorporate the vision of Wyoming's youth and young work force into policymaking.  That is why I am pleased to announce that I plan to fill the vacancy on the ENDOW Executive Council with a Wyoming person who is in the ENGAGE age demographic."
"It is Wyoming's young people who will build and sustain the future. I am excited to have their voices and their vision at the table as ENDOW lays out a 20-year roadmap to diversify Wyoming's economy," Mead continued.
"The ENGAGE participants are painting a picture for us of what it will take to make Wyoming's economy flourish across industries and in communities large and small. They are bold, insightful and ready to get to work. I'm thrilled that they are at the table with us," said ENDOW co-Chair Greg Hill. "I know that every one of the people at the ENGAGE Summit shares the same love of and commitment to our state that I share. I am eager to see the ENGAGE recommendations and look forward to incorporating them into ENDOW. This is just the beginning of the conversation with ENGAGE, but we are off to a great start!"
"I think of Wyoming as the land of opportunity but we cannot hold on to that moniker while exporting 60 percent of our most precious natural resource: our young people," Mead said. "We have to take the bull by the horns and build a future where, if you love Wyoming, you can stay here and find every opportunity for success. ENGAGE's leadership puts Wyoming in a position to make good on its promise to support diverse private sector opportunities long into the future."
ENDOW, which stands for Economically Needed Diversity Options for Wyoming, co-hosted the Summit on June 9 in Laramie. ENGAGE is a volunteer-led effort organized by more than 20 young Wyoming leaders and Wyoming expats, with support from ENDOW and the Office of Wyoming Governor Matt Mead. ENGAGE, which stands for Empowering the Next Generations to Grow and Advance the Economy, is invested in capturing the candid input of Wyoming's next generations and building a dynamic communications channel between Wyoming's public sector and the people who will define Wyoming's future.
The ENGAGE Council is continuing its work by organizing feedback gathered from participants through 40 Solution Sessions and more than 70 online survey responses on the following topics: Advanced Manufacturing; Agriculture; Natural Resources; Tourism and Outdoor Resources; Community Health and Quality of Life; Technology and Financial Services; Healthcare; Workforce and Education; Entrepreneurial Ecosystem; and, Arts and Culture. Using the insights and ideas gained through participant feedback, ENGAGE is developing recommendations that will be presented to the ENDOW Executive Council at their next meeting on June 28th in Rock Springs.
Last Saturday, Governor Mead announced his intention to appoint someone to the Executive Council from the ENGAGE demographic. Governor Mead hopes to have the new Executive Council member in place by the July ENDOW meeting. Applications are open and the Governor plans to make an appoint within 30 days. Interested individuals can apply at http://governor.wyo.gov/boards-and-commissions.
The ENGAGE Council also plans to continue its work and shape policy for the next generations by bringing the bold ideas of Wyoming's young workers and students to the table. Individuals interested in serving on the ENGAGE Council are encouraged to apply at https://docs.google.com/forms/d/e/1FAIpQLSctvJpYlBLL1gQYMeb6Ke7X3IAf-mc6noCLqrxyb9kYXI4hTw/viewform.
First Lady Carol Mead and the University of Wyoming Literacy Research Center and Clinic (LRCC) are seeking applications for the third annual Wyoming First Lady's Leaders in Literacy Award, which will be presented in November at the Wyoming Business Alliance Forum in Cheyenne.
"This award started in 2016. I have been impressed by the number and quality of nominations around the state," Mrs. Mead said. "The LRCC Outreach Advisory Board and faculty look forward to reviewing this year's nominees and recognizing the difference they make for people in Wyoming."
Each year, the LRCC Outreach Advisory Board selects a winner based on a nomination process. The winner receives $4000 and a plaque recognizing the honor. This year, the award will be presented in November in Cheyenne. Nominations will be accepted through October 1, 2018.
"The mission of the LRCC is statewide engagement in literacy," said Dana Robertson, Executive Director of the LRCC. "One of the ways we can accomplish this goal is to promote and recognize the many wonderful opportunities and programs available across the state that support the literacy practices of our children and adults."
More information about the award and the nomination process, including criteria and a link to the online submission form, can be found on the LRCC website. Past nominees are encouraged to apply.
-end-
CHEYENNE, Wyo. –Governor Matt Mead is pleased to announce the State of Wyoming and the Wyoming State Fair will be hosts of the 2018 Vortex Extreme - a hunting inspired, team based shooting competition "where endurance and accuracy meet".  Vortex Optics, Strategic Match Designs and The Wyoming Department of Agriculture have collaborated to bring this event to the Wyoming State Fairgrounds August 10
th
 and 11
th
, 2018. 
Teams of two carrying bolt action or modern sporting rifles will navigate mountain terrain and shoot multiple targets from distances of 400 yards up to 1 mile.  The Vortex Extreme will headquarter at the State Fairgrounds and competition will take place on the spectacular Wagonhound Ranch above Douglas, Wyoming.
"The spirit of this event sets it apart" said Governor Matt Mead, "Hunters and long range shooters challenge themselves, hone their skill and have a good time doing it. I am pleased that Vortex and Strategic Match Designs have partnered with the Wyoming State Fair and the Wagonhound Ranch for this world class event." 
"From long range hunters, to Precision Rifle Series competitors to military and law enforcement snipers – we all love shooting" said Mark Boardman of Vortex Optics.  "This event is about great comradery, helping one another improve and a shared a passion for long-range shooting."
"I want to thank the Wagonhound for hosting this year's course," said Governor Mead.  "Events that support partnerships of private landowners and quality companies create opportunities for everyday sportsmen and sportswomen, agriculture and the state." 
Teams can sign up and find more information on the Vortex Optics website, at: https://practiscore.com/vortex-extreme-invitational-2018-by-smd/register
-end-

CHEYENNE, Wyo. – The Third Annual Symposium on Suicide Prevention will take place on Wednesday, May 9, 2018 from 8:30am – 5:15pm at Little America Hotel and Resort in Cheyenne. The event is "sold out" and arrangements have been made for online participation for those who have not yet registered, but want to partake. With the exception of only one portion of the event, the symposium will be streamed live on YouTube and on Governor Mead's website at www.governor.wyo.gov.    
Suicide prevention has been one of Governor Mead's top priorities. This will be highlighted at the symposium. "The topic of suicide should be discussed openly," Governor Mead said. We have to do more to prevent suicide through awareness and education and to recognize the warning signs of suicide."
The symposium will include welcoming remarks from Governor Mead, and screening of the award winning documentary, "The S Word" and the story behind the film told by its director and writer, Lisa Klein, who is also the keynote speaker. "There is no more highly charged personal issue for me," Klein said. "That's the reason I was driven to document it and open a much-needed conversation. It is time for us to boldly talk about suicide because no family should have to experience this."
Other presentations will be given from Lance Neiberger, Dr Kailey Cannizzaro, Dr. Carolyn Pepper, Dr. Dick Berry, Elk Sage, Shelly Montgomery and Rhianna Brand. In addition, the Cheyenne Chamber Singers will make a special appearance to perform "Please Stay," a powerful suicide prevention song. The full agenda can be found here and the full list of speaker biographies can be found here.
About the Governor's Symposium on Suicide Prevention
Gov. Mead held his first symposium on suicide prevention in 2016. He announced to the Legislature the next year that the symposium would be held annually. The Governor's third annual symposium includes a broad range of speakers and topics such as suicide prevention among the Native American population, Veterans, and teenagers and young adults.
CHEYENNE, Wyo. – Governor Matt Mead announced the Japanese Ministry of Environment has authorized the Japan Coal Energy Center (JCOAL) and Kawasaki Heavy Industries (KHI) to test new carbon capture technologies at the Wyoming Integrated Test Center (ITC) near Gillette, Wyoming. 
A planned 800 – 1,000 million yen (approximately $7.33 – $9.12 million USD) grant will be allocated in phases. The first step is $0.9 million USD (approximately 98 million yen) to prepare a feasibility analysis of a novel, solid sorbent-based carbon capture technology.
Governor Mead and JCOAL signed a Memorandum of Understanding in July 2016 outlining areas of cooperation, including the research and development of coal technologies. In September of 2017, a Japanese delegation traveled to Gillette, WY to participate in a series of meetings hosted by the University of Wyoming School of Energy Resources and tour area facilities, including a coal mine and the ITC. 
"I am excited to welcome Kawasaki, a highly esteemed company to Wyoming. This announcement is the culmination of many hours of research, strategic planning and vision. The work of JCOAL and Kawasaki, along with the other Carbon XPRIZE teams, positions the Wyoming ITC as world class facility for testing carbon management technologies," said Wyoming Governor Matt Mead.
JCOAL and KHI's planning and design work will occur in 2018. Following feasibility study, JCOAL and KHI plan to test the solid sorbent-based carbon capture technology at the ITC. Economic and environmental assessments will be conducted. Preparation of a test pad at the ITC for JCOAL and KHI has started and will be completed later this year.
In March 2018, a delegation from Wyoming visited the KHI test facility, toured a large coal power plant that uses Powder River Basin coal and a carbon sequestration test site.  The group also held discussions with KHI, JCOAL and the Ministry of Environment about long-term collaborative opportunities, including addition project testing at the ITC.   
About the ITC
The ITC is a public-private partnership designed to foster the next generation of energy technology. The ITC will provide space for researchers to test Carbon Capture, Utilization and Sequestration (CCUS) technologies using actual coal-based flue gas from the Dry Fork Station near Gillette.
In 2014, with the support and encouragement of Governor Matt Mead, the Wyoming State Legislature allocated $15 million in funding for the design, construction and operation of an integrated test center to study the capture, sequestration and management of carbon emissions from a Wyoming coal-based power plant. An additional $5 million commitment from private industry was required under the appropriation, which was received from the Tri-State Generation and Transmission Association. In addition, the National Rural Electric Cooperative Association contributed $1 million. Basin Electric Power Cooperative is providing additional in-kind contributions including engineering and construction management services at the Dry Fork Station host site, which is jointly owned by Basin Electric and the Wyoming Municipal Power Agency.
About JCOAL
JCOAL is a one-stop organization for energy and coal development and utilization under supervision of Japan's Ministry of Economy, Trade and Industry (METI). JCOAL is supported by its member companies and organizations in a wide range of coal-related businesses, including coal mining companies, power companies, steel companies, heavy industry companies, engineering companies, and trading companies. It works in close cooperation with METI, MOE and other government bodies and government-affiliated organizations, including Japan Oil, Gas and Metals National Corporation, New Energy and Industrial Technology Development Organization, and Japan International Cooperation Agency.
About KHI
Kawasaki Heavy Industries' (KHI), has for more than a century developed technological capabilities that it uses to send diverse products. Its products are used from the depths of the ocean to space and everywhere in between. Its aerospace products range from aircraft to satellites; rolling stock products include the Shinkansen (bullet train) and subway cars; ship and offshore structure products range from gas carriers and large tankers to submarines; and energy solutions products covers the spectrum from development and manufacture of energy equipment to management systems. KHI is also active in diverse, high-level engineering technologies, including environmental and recycling plants, industrial plants, precision machinery, industrial robots, and infrastructure equipment.
-end-
The City of Sheridan Receives Redesignation to Attainment
CHEYENNE, Wyo. – On April 4, 2018, the United States Environmental Protection Agency (EPA) issued final approval for the State of Wyoming's Limited Maintenance Plan and Request for Redesignation to Attainment for the City of Sheridan moderate Particulate Matter (PM10) nonattainment area. This action officially removes the nonattainment status for the City of Sheridan.  It also means a federally required construction ban on major sources of PM10 in the City of Sheridan, implemented in the early 1990s, will no longer be in effect.
"The City of Sheridan and Wyoming Department of Environmental Quality (DEQ) worked hard for a long time to obtain this redesignation," said Wyoming Governor Matt Mead. "Sheridan's air quality had been achieving national standards for nearly 25 years and based on Sheridan's work, redesignation has been due. I appreciate the efforts of Wyoming DEQ Director, Parfitt and EPA Administrator, Pruitt to get this accomplished."
In the 1980s, elevated levels of particulate matter were recorded on air quality monitors in the City of Sheridan. These measurements exceeded the national standard for particulate matter.  As a result, the EPA classified the City of Sheridan as a nonattainment area on July 20, 1987. 
In the time since that designation, the Wyoming DEQ, the City of Sheridan, and other stakeholders worked together to develop policies that achieved lasting air quality improvements and met Clean Air Act requirements.  Through this process, a winter road maintenance plan was developed to address high levels of fugitive road dust, which were identified as a primary contributor to the pollution.
By 1994, the air quality had improved to the extent that the EPA determined that the area was meeting the national standards for PM10 and, consequentially, approved the State of Wyoming's State Implementation Plan for the City of Sheridan nonattainment area.
"We appreciate the efforts by the City of Sheridan in bringing the air quality back in line with the National Ambient Air Quality Standards for particulate matter," said Todd Parfitt, DEQ Director. "This timely and responsive action by the EPA confirms the State of Wyoming's determination that the area is back in compliance."
"Redesignation was made possible because of the combined efforts from citizens, industry, the City of Sheridan, and the State to put protective air quality measures in place," added Nancy Vehr, DEQ Air Quality Administrator. "Because of these early cooperative efforts, it is great to have a redesignation that recognizes Sheridan may enjoy both cleaner air and economic development opportunities."
The Wyoming DEQ will continue to operate air quality monitors in the Sheridan area, and the Limited Maintenance Plan contains contingency measures in case elevated particulate matter levels reoccur.
-end-
CHEYENNE, Wyo. – Ten teams were named as finalists for the NRG COSIA Carbon XPRIZE this morning during the Bloomberg Future of Energy Summit in New York City. Five teams will continue on in the coal track and five will participate in the natural gas track. The five coal-track teams will be the first tenants of the Wyoming Integrated Test Center (ITC) where they will be able to test their processes and products utilizing captured carbon. The five coal track teams include;
·Breathe (Bangalore, India) – Led by Dr. Sebastian Peter, the team is producing methanol, a common fuel and petrochemical feedstock, using a novel catalyst.
·C4X (Suzhou, China) – Led by Dr. Wayne Song and Dr. Yuehui Li, the team is producing chemicals and bio-composite foamed plastics.
·Carbon Capture Machine (Aberdeen, Scotland) – Led by Dr. Mohammed Imbabi, the team is producing solid carbonates with applications to building materials.
·CarbonCure (Dartmouth, Canada) – Led by Jennifer Wagner, the team is producing stronger, greener concrete.
·Carbon Upcycling UCLA (Los Angeles, CA, USA) – Led by Dr. Gaurav Sant, the team is producing building materials that absorb CO2 during the production process to replace concrete. 
"I congratulate all the teams that participated in the Carbon XPRIZE, and am excited about the caliber of the five finalists," said Wyoming Governor Matt Mead. "These teams have worked hard and will begin realizing their ideas on a full scale production level in Wyoming. I am looking forward to watching them set up and work on game changing uses for carbon at the Integrated Test Center. These teams and their innovations have the potential to revolutionize uses of carbon as a byproduct of coal."
The NRG COSIA Carbon XPRIZE is a $20 million global competition to develop breakthrough technologies that convert the most CO2 into one or more products with the highest net value. A total of 47 teams entered the competition and 27 were selected in October of 2016 to advance to the second demonstration phase of the competition. Ten teams have now been selected to compete in the final round of the competition.  
The five-year contest includes two tracks, with the new technologies tested at either a coal power plant (the Wyoming ITC) or a natural gas facility (Alberta Carbon Conversion Technology Centre in Calgary, Alberta). This third round entails larger scale technology demonstration under real world conditions, with access to test centers adjacent to existing power plants. For being a finalist, each of the ten teams will evenly share a $5 million prize. In each track, the winner will be awarded a $7.5 million grand prize. The winner is expected to be announced sometime in March of 2020.
About the ITC
The ITC is a public-private partnership designed to foster the next generation of energy technology. The ITC will provide space for researchers to test Carbon Capture, Utilization and Sequestration (CCUS) technologies using actual coal-based flue gas from the Dry Fork Station near Gillette.
In 2014, with the support and encouragement of Governor Matt Mead, the Wyoming State Legislature allocated $15 million in funding for the design, construction and operation of an integrated test center to study the capture, sequestration and management of carbon emissions from a Wyoming coal-based power plant. An additional $5 million commitment from private industry was required under the appropriation, which has since been secured from the Tri-State Generation and Transmission Association in addition to $1 million pledged from the National Rural Electric Cooperative Association. Basin Electric Power Cooperative is providing additional in-kind contributions including engineering and construction management services at the Dry Fork Station host site, which is jointly owned by Basin Electric and the Wyoming Municipal Power Agency.
The ITC is slated to be one of a handful of such facilities around the world and only the second one in the United States. While many carbon capture technologies are being developed and studied in laboratory settings, the ITC will be one of the few research and testing facilities at an operating power plant. The ITC will allow for real world testing at an active power plant and alleviates typical concerns over being able to transfer technology from a lab to a plant.
-end-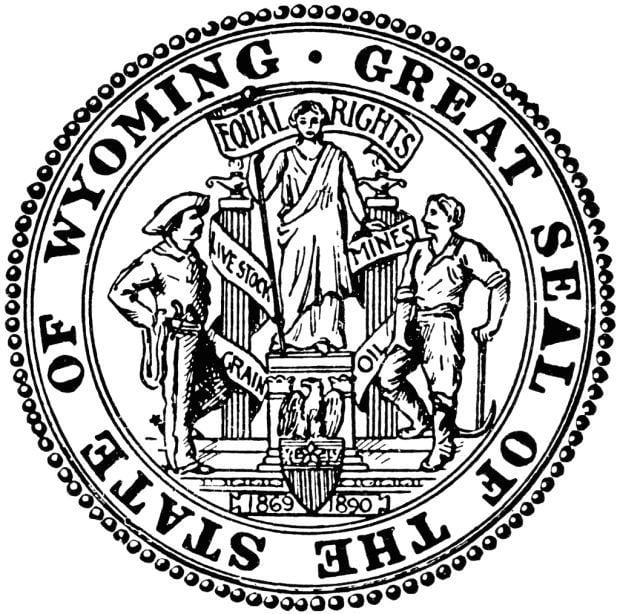 March 22, 2018
CHEYENNE, Wyo. – Today the Wyoming Supreme Court issued its decision in the case of Gordon v. State of Wyoming.  The Supreme Court reversed the District Court, which had rejected the Treasurer's challenge to the Capitol restoration legislation, and remanded the case to the District Court for further proceedings.  
In a 4-1 decision, the Court found the statutes passed by the Legislature to oversee the project did not provide for the Treasurer's "narrow constitutional check on the legislature's ability to spend on its own halls and rooms." The Court further specified that the Treasurer's approval is not required for all work on the project and provided many examples of aspects of the project not subject to his approval. Further proceedings in the District Court will, in the Court's words, "wrestle with" what parts of the project are within the narrow scope of the Treasurer's review. The project is moving toward completion next year and work will continue.
Chief Justice Burke in a dissenting opinion would have upheld the District Court finding that the statutes on their face were constitutional.
"I, as always, appreciate the work of the Wyoming Supreme Court. They have issued a thoughtful opinion in a complex case. They have recognized the honest effort of the Legislature to deal with this Herculean endeavor," said Governor Mead, who is a member of the Capitol Restoration Oversight Group but is not a named party in the case.
The Capitol project is a huge undertaking, begun years ago under then-Treasurer Joe Meyer. The Oversight Group has taken every aspect of the project seriously. Meetings are open to the public and well-attended, records are available, and every action has been deliberate and transparent.
"The Capitol is the most important building in the State, inspiring to look at and to visit - the repository of our state's history past, present and future," added Governor Mead. "Completing the restoration of this historic landmark is essential so the Capitol building can once again be open and available for all to see and enjoy."
Click here to read the Court's decision.
-end-
February 28, 2018
CHEYENNE, Wyo. – Wyoming Governor Matt Mead appointed five members to ENDOW's Rural Council. The Council offers a rural perspective on important considerations to the ENDOW Executive Council as it narrows its focus on solutions for sustaining and diversifying Wyoming's economy over the next twenty-years. ENDOW stands for Economically Needed Diversity Options for Wyoming.
The Council is Co-Chaired by ENDOW Executive Council member F.E. "Wally" Wolski and Savery rancher Jim Espy. The Council is composed of representatives from five leading rural advocacy organizations, the Wyoming Stock Growers Association, Wyoming Business Alliance, Wyoming Rural Electric Association, Wyoming Farm Bureau Federation, and the Wyoming Association of Conservation Districts.

"I thank these Wyoming leaders for serving on the ENDOW Rural Council. The voice of rural communities is critical to ENDOW," said Wyoming Governor Matt Mead. "The Council will add to ENDOW's work and will help shape the final recommendations of the Executive Council."

"I look forward to working with these exceptional rural leaders," said Rural Council Co-Chair Wally Wolski. "Wyoming is a rural state and I cannot overstate the importance of the insights, concerns and lessons that small towns and rural people bring to the table. A prosperous future for our small towns and rural places is key to ENDOW's ultimate success."

"Wyoming cannot meaningfully diversify our economy if it leaves rural communities behind," said Rural Council Co-Chair Jim Espy. "The Rural Council is a key component of ENDOW. I applaud Governor Mead for acknowledging the vital role of rural people and rural businesses to our state. I am excited by this opportunity and have every confidence that we will develop recommendations to enhance the Executive Council's work."

The Rural Council is scheduled to meet for its first time on Friday, March 2 from 9:00 a.m. to noon at the Wyoming State Library. Its members are:
● Cindy DeLancey, President of the Wyoming Business Alliance
● Tony Micheli, Representing the Wyoming Farm Bureau Federation
● Scott Smith, Secretary of Garland Light & Power Co.
● Jamie Tarver, Supervisor of the Campbell County Conservation District
● Dennis Sun, President of Wyoming Stock Growers Association

ABOUT ENDOW
ENDOW aims to facilitate broader, lasting economic growth at the state and local level by capitalizing on Wyoming's number one strength: its people. ENDOW is an opportunity for Wyoming to take the reins and realize a future where the state can prosper no matter the economic climate or the status of commodity prices.

The ENDOW Executive Council submitted its first report to Governor Matt Mead and the Wyoming Legislature on August 30. The Wyoming socioeconomic assessment established a baseline for the preliminary recommendations submitted on December 29, 2017. The economic diversification strategy is due August 1, 2018. Additional information on ENDOW can found at www.endowyo.biz.
-end-
March 1, 2018
Governor Mead Selects New Secretary of State
CHEYENNE, Wyo. – Governor Matt Mead has chosen Edward Buchanan to fill the Secretary of State vacancy. Buchanan was one of three candidates the Wyoming Republican Party Central Committee sent to Governor Mead to replace Ed Murray who resigned from office on February 9th.
Wyoming has a statutory process which governs vacancies in elected offices. In the case of the Secretary of State, application is made to the central committee of the political party which the last incumbent represented at the time of election - in this case the Republican Party. The Republican Central Committee selects three names. The Governor, then, interviews the three candidates and chooses among them.
Governor Mead interviewed the three candidates on Tuesday. "I have received input from people across the state. I have weighed that input in my evaluations and I selected Ed Buchanan," said Governor Mead. "I was particularly impressed that Ed ran for this Office in the last election. He understands state government having served in the Legislature where he rose through the ranks to serve as Speaker of the House. He is a respected attorney and prosecutor. In the course of his career, he has had many interactions with the office of Secretary of State. I have admiration for his military career. Ed is committed to Wyoming and to the responsibilities of the Office," Mead said.
The Central Committee also sent Governor Mead the names of Darin Smith an attorney from Cheyenne and Richard George a farmer from Park County.
"I appreciate Darin and Richard. They were each committed to serve and committed to Wyoming," said Governor Mead.
"It is an honor and privilege to be selected for this office by the Central Committee and Governor Mead. I pledge my best efforts to the State of Wyoming and her citizens. I am blessed and honored to serve," said Buchanan.
-end-